Landscaping and Tree Trimming in West Los Angeles, California
For reliable, professional landscaping and tree services at an affordable price on the West Side, look no further than Gutierrez & Sons. 
Whether you're planting trees on a large commercial property, or just have a small job on a residential estate, we're happy to help. We enjoy focusing on the small details as much as we do handling a large project—no job is too small for us. 
Your #1 Choice For Tree Trimming In West Los Angeles:
We not only have great landscaping experience across the board: we're also specialized in the greater Los Angeles area, as well. We understand the climate, the best planting and pruning seasons, native agriculture, and the local soil variations. We have decades of experience in the area, and we know how to make your landscape thrive.
Better service doesn't come at a better price. We price our landscaping and tree trimming in West Los Angeles at the most competitive rate you'll find around. If you're not sure what type of price your project will incur, we'd be happy to give you a fair and free estimate.
Sometimes, a fallen or damaged tree can present serious risks. That's why we can be available at the last minute for next day service. Give us a call to see if we can help take care of your job.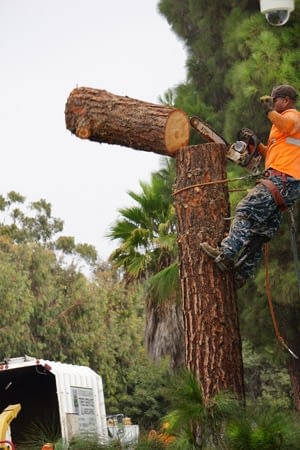 Fully Licensed To Ensure Maximum Safety
For big jobs, you need to be able to rest easy knowing professionals can handle labor-intensive tasks without any liability involved. Gutierrez & Sons services are fully licensed, bonded, and insured for a service that is as reliable as it is responsible.
Safety is critical in our industry, and we make it our top priority. We are proud to be a 100% injury free tree service, and we are happy to provide our clients with our references, Certificate of Liability, and proof of Workman's Compensation Insurance upon request.
Get Your Free Estimate Today
As a family-run business, we aren't cold and removed like a big corporate service. We want to connect with our customers on a personal level and provide friendly and personalized service. We'd be happy to have a chat with you and walk you through your specific needs.
We're confident our landscaping and tree trimming West Los Angeles services can suit almost every need. Contact Gutierrez & Sons Tree Trimming and Landscaping today for a free estimate.