To a tree, certain diseases can be just as deadly as fire or lightning. If left unchecked, a disease can spread through a tree and other nearby plants faster than you'd expect. If you notice any unusual markings or damage on one of your trees, make sure you perform the necessary tree disease treatments before it's too late.
Gutierrez & Sons has been a top tree maintenance and landscaping company in Southern California since 1982. Below are the most common tree diseases we spot, and what you should do about them if you spot them.
Common Disease #1: Fire Blight
Contrary to the name, fire blight is a bacterial disease, and it is not caused by fire. This disease is caused Erwinia amylovora. It mostly affects pear, apple, and crabapple trees, although it can also affect ash, loquat, hawthorn, and several other species. You're mostly to spot this disease in the early spring with new growth. It's highly contagious, and can quickly kill a tree without the proper tree disease treatment. 
Signs to watch out for: Clear, watery discharge that seeps from dead bark and turns black, leaving dark stripes. If left unchecked, it can cause blossoms, shoots, or fruit to die and turn black. Spreads quickly in hot, rainy, and humid weather.
How to treat it: A professional is sometimes able to remove the infected areas of the tree in summer or winter, when the bacteria is no longer spreading. They may remove branches or even large parts of the trunk and bark to remove the disease.
Common Disease #2: Brown Rot
Brown rot, or Monilinia spp., commonly affects fruit trees in California including peach, nectarine, plum, and cherry trees. This fungal disease can be highly deadly and contagious to fruit trees and spreads quickly during periods of rainy weather or over-watering.
Signs to watch out for: Brown, oozing blossoms, shriveled leaves, and/or light-colored spores emerging from dead blossoms or cankers.
How to treat it: Any infected area will need to be completely removed by a professional. Look into fungicides and similar tree disease treatments containing copper to avoid removing the entire tree.
Common Disease #3: Anthracnose
Anthracnose, like the previous two diseases, also thrives in warm, humid, and rainy weather. When left unchecked, it can affect fruit, leaves, stems, and the tree itself. This disease is removable and treatable with the proper tree maintenance and care by professionals. 
Signs to watch out for: Small, yellowish-brown spots on leaves, fruits, blossoms, and new growth. These spots eventually turn into dark, sunken lesions and spread throughout the tree, distorting it over time.
How to treat it: Preventative tree disease treatments are more effective than treatments after infection, and some trees grow and survive despite the presence of anthracnose. There is no current cure for anthracnose, but it's not lethal. Look for anthracnose-resistant varieties when choosing a tree to plant.
Common Disease # 4: Fusarium Wilt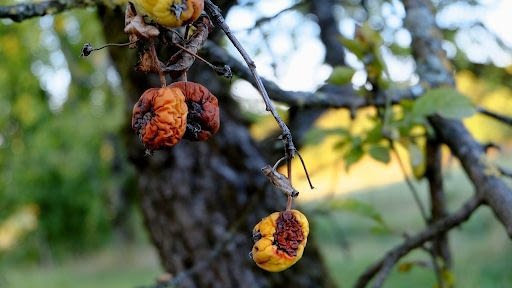 Fusarium oxysporum is a common fungus affecting palm trees in California. This common fungus can also affect fruit trees and food crops and can spread quickly and easily throughout the soil. 
Signs to watch out for: Fusarium wilt begins in the roots and spreads into the older (lower) leaves first. Fusarium wilt causes low leaves to turn yellow and wilt, hence the name. 
How to treat it: Fusarium wilt is difficult to treat, and often kills the tree. This fungus grows in the soil, so get your soil tested before planting palms or crops! Prevention is the best tree disease treatment. 
What To Do If Your Tree Is Dead
Sometimes a tree disease is untreatable, and a tree simply can't be saved. In that unfortunate case, the responsible thing to do is remove it as soon as possible. You don't want the disease spreading to other plants.
A dead tree will eventually fall. It may take a month, a year, or more, but it's guaranteed to decay, as all dead plants do. 
Falling trees present a serious danger, both to your property and any potential passersby. If your tree disease treatments fail, the responsible thing to do is hire a professional tree removalist. 
Unless you have the proper training and experience, don't attempt to remove the tree yourself. Removing a tree is a dangerous and risky task that should only be entrusted to people with adequate safety training. A professional tree removalist will not only remove it safely, but they'll have the expertise necessary to prevent the disease from spreading to other trees.
Contact Gutierrez & Sons for Tree Disease Treatments, Tree Maintenance, Tree Removal, and More
Gutierrez & Sons has been offering top tree services in the greater Los Angeles area for decades. We know what it takes to keep trees thriving and beautiful in the sunny California climate. If you have any questions for us about tree disease treatments or other tree services, don't hesitate to get in touch. Contact us online and we'll be happy to help you out.