You might think that winter sounds like a bad time to plant trees on your property. For climates that experience heavy snowfall, that might be the case — but in Southern California, the frequent rain makes winter a decent time to plant many types of trees.
At Gutierrez & Sons, we've been chopping down, trimming, and planting trees in the winter since 1982. We're experts in Southern California winter tree trimming and care, and we have some advice that will keep your garden growing and thriving in any season.
Read this essential advice for planting trees in the winter and general winter tree trimming advice so you know what landscaping and tree services you need to hire in advance.
Why Plant Trees in the Winter?
Most trees need to establish a strong root system and get ample water in order to grow properly. In Southern California, drought and hot weather can make these conditions tough to find. The relatively wet winter has the best chance of survival for many saplings..
When Not to Plant
It's not always a good idea to plant trees in the winter. Many trees, like ficus trees, will die when a sapling is exposed to frost. Even sunny Los Angeles can experience a cold spell, so for these sensitive trees, wait until spring, summer, or early fall.
Do research into your specific species of tree to ensure it's hardy enough to withstand a couple of nights of frost. Contact a landscaping professional for the best advice on what you can plant.
Try Fruit Trees
Most fruit trees are available "bare-root" when they're dormant in winter, which means they've been plucked from the ground and washed of soil. Bare-root options make it easy to plant trees in the winter.
By planting fruit trees in the winter, you're ensuring that you have a well-watered and strong enough root system come the summer months. Water usage is heavily restricted in Southern California, so you should ensure you're taking advantage of the wettest season to grow your fruit tree.
Late fall is often the best time to plant fruit trees in Southern California because according to some: the roots can establish and get maximum natural watering throughout the entire duration of the winter the earlier on you plant.
Again, it always depends on your type of plant. There are thousands of fruit trees out there, each with its specific needs. For the small details, contact a winter tree care expert.
Can I Remove Trees in the Winter?
A professional in Southern California winter tree care should be able to take down dangerous, overgrown, dead, or unsightly trees in any season.
In fact, winter is a great time to remove deciduous trees that lose their leaves in the winter. The lack of leaves will make visibility and branch access much easier.
Don't try to take down a large tree yourself. Tree removal can be very dangerous, especially when the Southern California climate makes conditions slippery and windy. Trust the professionals for safe and straightforward winter tree removal.
Can I Trim Trees in the Winter?
Just like removal, winter tree trimming is also made easier than in other seasons. The bare branches are easy to access, and the cooler weather makes the process a lot less grueling.
For native Southern California trees like palm trees, any season works. A professional landscaping firm should be able to tackle your tree trimming needs on short notice any time of year.
However, if you're working with non-native plants that bloom in spring, you're going to need to watch out when you're considering trimming in winter. Trimming in the middle of winter might harm the plant, preventing future growth by exposing sensitive parts of the plant to frost. It's heavily dependent on your plant and where it's from, so contact a landscaper to learn what's best for you!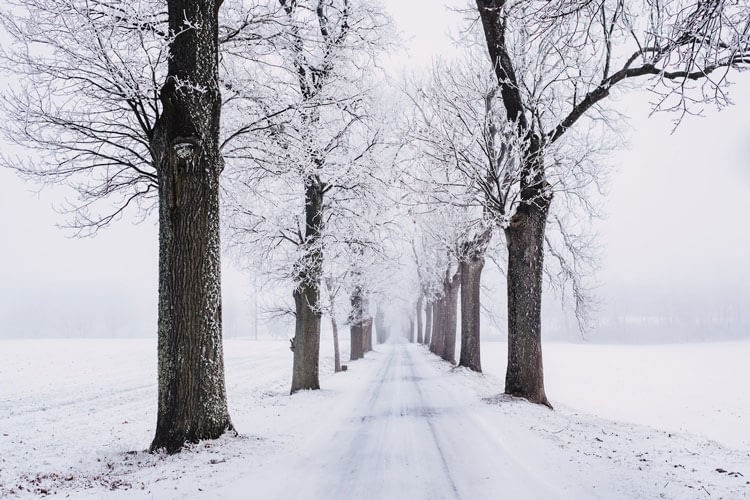 Trust Gutierrez & Sons for Winter Tree Trimming, Removal, and Planting
Planting fruits, vegetables, and flowers is involved enough, but winter tree trimming and other forms of care take it to the next level. Don't rely on guesswork — trust the experts who have made caring for plants their passion and profession.
We ensure safety every step of the way. We're a 100% injury-free landscaping and tree service with our Workman's Comp Insurance and Certificate of Liability always available on request. We service both large commercial properties and small residences, and no job is too small for our team. We can also handle last-minute tree services for emergencies.
Learn more about planting trees in the winter by contacting Gutierrez & Sons today.