Southern California landscaping comes with its fair share of challenges: frequent drought and water shortages, arid conditions, and high soil salinity, to name a few. To design a stunning front garden, you need to get creative and take advantage of native plants to design the ideal landscape architecture for the climate.
At Gutierrez & Sons, we've been doing everything from shrub trimming to front yard tree removal in California since 1982. We've compiled our top 5 creative Southern California front yard landscaping ideas for you to explore here.
Top 5 California Front Yard Landscaping Ideas You'll Love
1. Skip Grass for Decomposed Granite
Decomposed granite is a popular Southern California landscaping idea for front yards and side areas. The local climate just isn't able to sustain the pristine green lawns we often associate with classic suburbia.
Decomposed granite is more practical than it sounds; it's finer and softer than gravel – closer to sand than pebbles. Kids can still play and roughhouse on it to their heart's content. It's permeable, natural, and keeps weeds at bay to boot. It also comes in a variety of colors, from sierra, to black, and even green, so you can get creative when choosing the perfect shade for your landscape.
2. Install a Native Flower Meadow
What better way to celebrate Southern California than by creating a paradise of native wildflowers right in your front yard?
Adding native wildflowers is one of our favorite Southern California front yard landscaping ideas that can flourish even during a drought. We love the modernist wildflower meadow in Los Angeles listed here for its vibrance, lush feel, and how it blends seamlessly with the clay soil.
The lack of grass is hardly noticeable, and the clay contrast even complements the surroundings. You would also have the option of removing trees from your front yard or allowing them to blend in with the flowers for a thicker foliage feel.
Native wildflowers, unlike many non-native plants, are the most likely to attract birds, butterflies, and other critters, so when you have your garden in full bloom, you'll be able to enjoy the wildlife as well as the plant life. You'll also find that weeding your Southern California landscape is less of a hassle with these lawns, as native plants are less likely to crawl out of control.
Here are some native wildflowers to try:
Desert dandelion

Flowering cacti

California poppies

Mariposa lily

Dune evening primrose

Monkeyflower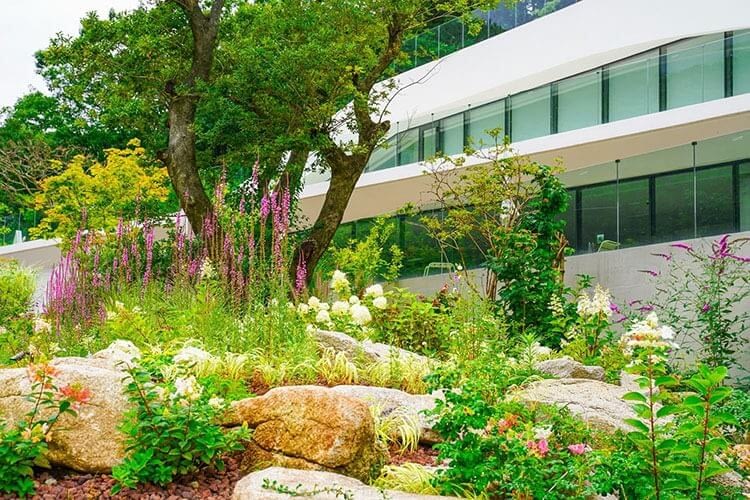 3. Perform a Xeriscaping Analysis
Xeriscaping is all about using the natural drainage patterns and soil quality to optimize how your plants use water. By designing a xeriscaped lawn, you'll be able to reduce your need for shrub trimming, avoid pesticides, and conserve water.
If you perform a xeriscaping analysis to determine where your water pools, you'll be able to find out where you can plant more water-demanding plants. You can also install a gutter collection system that drains rainwater to drier parts of your lawn. Discuss this California front yard landscaping idea with a professional xeriscaper to maximize your yard's environmental efficiency.
4. Stick with Succulents
With a near-infinite range of shapes, colors, and sizes, the possibilities with succulents are nearly endless. You can easily incorporate succulents into an existing garden or have the succulents stand out all on their own. Keep in mind that some succulents thrive in slight shade, so you may want to place them at the base of a palm tree or other shady foliage.
Succulents are a safe landscaping idea for California front yards because they're also remarkably low-maintenance. If you're not someone who would enjoy removing trees, trimming shrubs, or weeding every day, you'll find a succulent-stuffed lawn to be a laid-back, compatible solution for your Southern California landscape.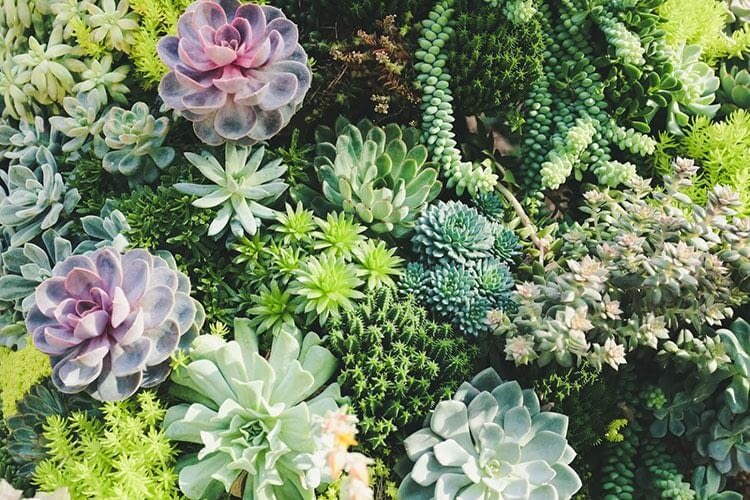 5. Style a Zen Rock Garden
If you've never seen a rock garden, you might think it sounds a bit uninspired. What can be so beautiful about a bunch of rocks with a few scattered shrubs?
A simple exploration of the magic of zen gardens reveals their versatility, artistry, and pleasant effect on Southern California landscapes. Ideas for California front yards don't all have to be sparse and bare: incorporate a lush border on the edges of your rock garden to frame the pebble design and you've made the rock garden a beautiful focal point. The most common materials in a rock garden are sand, gravel, pebbles, and boulders, but you can get creative and go beyond those as well.
Add other enchanting additions to your zen rock gardens, such as mulch flower beds, a peaceful sitting area for garden parties, or a koi pond to keep with the Japanese theme. Zen gardens are all about displaying your landscaping like a piece of artwork.
Trust Gutierrez & Sons For Shrub Trimming, Front Yard Tree Removal, Landscaping & More
We've proudly served the greater Los Angeles area for decades, and we're happy to share our Southern California front yard landscaping ideas with everyone who drops by. We can tackle tricky front yard tree removals, hard-to-reach shrub trimming, and native landscaping for any front yard. Whether you need a cherry picker or just some pruning, give us a call—no job is too small for our business. We look forward to working with your unique Southern California landscape.